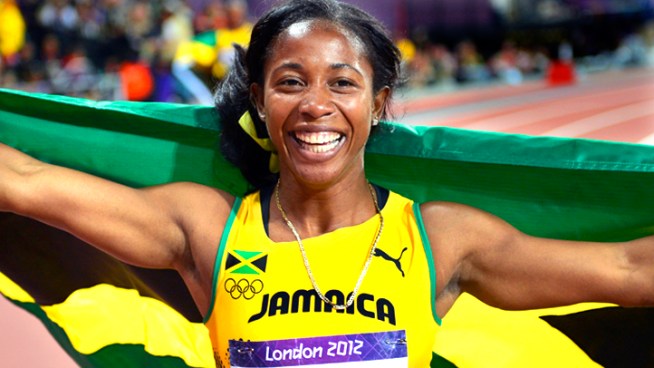 Jamaican Shelly-Ann Fraser Pryce successfully defended her gold in the women's 100m sprint Saturday, earning the title of world's fastest woman and outsprinting world champion Carmelita Jeter of Team USA.
Fraser-Pryce, who finished in 10.75 seconds, became the first woman to repeat in the 100m since Gail Devers of the U.S. did it in 1992 and 1996, according to the Associated Press.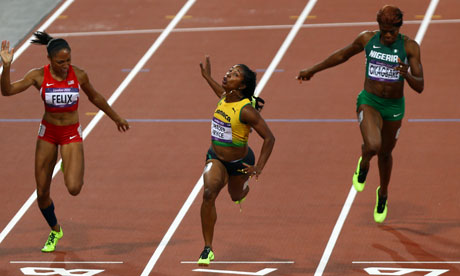 Jeter, running in her first Olympics at 32, took silver, finishing three hundredths of a second behind Fraser Pryce.
The long-anticipated showdown was billed as a classic battle between the Americans and Jamaicans, with a total of five runners from the two countries considered contenders for the crown. In the end, it came down to Pryce, who won gold in the 100m at the 2008 Beijing Olympics and again at the 2009 world championships, and Jeter, who won gold at the 2011 worlds and owns the second-fastest time in history, 10.64 (the world record, 10.49, was set by Florence Griffith Joyner in 1988).
Fraser Pryce's teammate, Veronica Campbell Brown, came in third on Saturday. Americans Tianna Madison and Allyson Felix finished fourth and fifth, respectively.
A showdown between America and Jamaica is also brewing in the men's 100m.
Jamaican Usain Bolt, the reigning Olympic champion and world record holder, easily won his Saturday qualifying heat with a time of 10.09. The showman, known for feeding off the energy of the crowd, offered a female track attendant a fist bump after she collected his warm-up suit and winter hat. As his name was announced and the stadium roared, Bolt waved his pointer fingers in the air and hopped around as other athletes stared down the track. His fingers were pointed skyward again after he cruised past the finish line.
"Number one baby," he said as he exited the track. "All day every day. All day!"
Fellow Jamaican Yohan Blake, who beat Bolt at the Olympic trials, ran a better time at Saturday's first round races. He won his heat with a time of 10 seconds flat. More subdued than Bolt, Blake offered the crowd a simple salute before his heat, and avoided eye contact with the cameras as he walked off the track, smiling slightly to himself.
Americans Justin Gatlin, Tyson Gay and Ryan Bailey—the Jamaicans' biggest threat—swept the first three heats of the 100m, securing places in the semifinals, which will be held 2:45 p.m. Sunday. The final will take place two hours later.