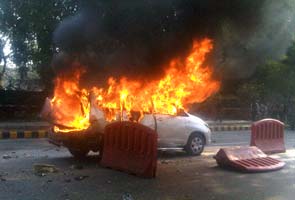 New Delhi: There has been an explosion in an Israeli diplomat's car very near Prime Minister Manmohan Singh's 7 Race Course Road residence this afternoon. Explosives have been found at the site of the blast and four people, including a woman diplomat - Tal Yeshova - have been injured. Police say she was on her way to pick her children from school when the incident took place. She is in a critical condition, and is reportedly undergoing spinal surgery. (First Pics)
The three other people- Manoj Sharma ,the 44-year-old driver of the car in which the blast took place, and two occupants of another car - Arun Sharma and Manjeet Singh - are in the Ram Manohar Lohia Hospital with splinter injuries. The police described the injuries as "minor".
The blast happened at a petrol station at about 3 pm today barely 200 metres from the Prime Minister's residence. The car, a Toyota Innova, went up in flames and is completely burnt down. (See mobile phone video of the car blast)
Senior police officials rushed to the spot and the entire area has been cordoned off. An eyewitness told reporters, "We heard a blast and came here to see what happened. We saw the car burning. There were 2 people in the car. Bystanders pulled them out. " (Eyewitness account)
Initial reports said the blast was caused by a CNG cylinder that burst, but traces of explosives were soon found. And eyewitnesses have now reportedly told investigators that a motorcycle was seen following the car minutes before the explosions and the motorcyclist was spotted sticking something on the car. Forensic teams are now going through the debris.
Delhi's Police Commissioner BK Gupta said the Special cell of Delhi Police is investigating the case. Giving details of the incident, he said, " A motorcyclist stuck something to the car. The CFSL (Central Forensic Science Laboratories) team is examining the car. What explosives were used will be known after further investigation." (Watch: Delhi Police Chief on Israeli embassy car blast)
Israel's Foreign Ministry has said there has been a pair of attempted car bombings against Israeli diplomats in India and Georgia.The Israeli Embassy in India told NDTV: "We do not know what caused the explosion. One person has been injured, a diplomat, who is now in hospital. We are in touch with local authorities."
Israel has blamed Hezbollah for the attacks. "Iran, which stands behind these attacks, is the biggest exporter of terrorism in the world," Israeli Prime Minister Benjamin Netanyahu said, adding, "We will continue to act with a strong arm, methodically and patiently, against international terrorism that originates from Iran." (Read)
In Tel Aviv, Israel's Foreign Minister Avigdor Liberman said, "Israel and citizens face terror inside and outside of Israel everyday. We know how to identify who is responsible and who carries it out."
Israeli Embassy offices in Mumbai, and across the world, have also been put on high alert. All other consulates and embassies across India are also on high alert.
"I have just spoken to the Israeli Foreign Minister and reassured him that the law of the land will take its course, and the investigation has alreday started. We will continue with it, and keep him posted." said Exteral Affairs Minister, SM Krishna. (Watch)