The wait is finally over. Sachin Tendulkar on Friday finally reached the milestone of 100th international century.
It was during 2011 World Cup match against South Africa that Tendulkar hit his 99th international ton. But it has been 33 innings since then and the icon has repeatedly failed to cross that landmark.
He has played in 11 Tests over the last year and scored 778 runs with a highest score of 94. And he's made 301 runs at an average of 27.36 from the 11 ODIs.
Tendulkar's numbers in Tests and ODIs since his 111 against the Proteas in the World Cup on March 12, 2011:
Matches Innings Runs Avg Highest
Tests 11 21 778 37.04 94
ODIs 11 11 301 27.36 85
The milestone was appearing to weigh the Master Blaster down. But Team India skipper M.S. Dhoni dismissed such notions ahead of the team's first Asia Cup tie against Sri Lanka on Tuesday. "These are small things, not a worry. He is an asset to the team,"
Tendulkar has come close a few times, but it was not to be. He seemed to be feeling the heat and took to the nets on Wednesday despite it being optional in an effort to sort out his knicks. Only three Indian cricketers turned up and Sachin was one of them.
And all the hard seems to have paid off.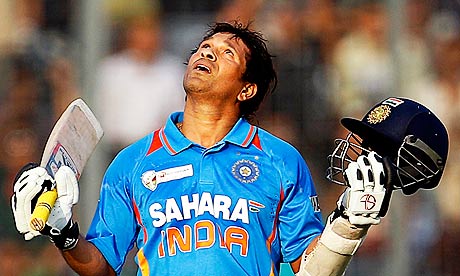 Sachin Tendulkar has become the first cricketer to score 100 international centuries after his hundred against Bangladesh in the Asia Cup in Dhaka.
It has been more than a year since he hit his last, against South Africa in Nagpur in a World Cup match, which is the longest time that he has had to wait for a century since his first Test century against England at Old Trafford in August 1990 and his second one against Australia 17 months later in January 1992.
Tendulkar has now hit 49 ODI centuries and 51 in Tests and went on to make 114 before being dismissed.
Tendulkar admitted the achievement had yet to sink in. "It was a tough phase for me. Especially tough when you know that I started off this season batting reasonably well," a tired-looking Tendulkar told the NEO Cricket channel.
"I batted well in Australia. I felt at times I was luckless. Doesn't matter how many hundreds you score, you still have to put your head down, grind it out and do the job for the team. It hasn't sunk in but I have definitely lost about 50 kilos."
He raised his arms to the sky in a muted celebration before being congratulated by the Bangladesh fielders.
Tendulkar reached his 100th century, his first in ODIs against Bangladesh, off 138 balls. The all-time leading scorer in both Tests and ODIs failed to register a century on India's tour of England, in the home series against West Indies and on the tour of Australia.
"Precisely a year ago when I got my 99th hundred no one spoke about it during the World Cup. And then it was I guess the media who started all these," Tendulkar added. "Wherever I went, to restaurants, the house-keeping, the room service, whoever I met just spoke about the 100th hundred. It became a little difficult mentally, because I am not playing only for my 100th hundred. The 99 hundreds that I scored, nobody spoke about them. Everyone had their opinion but eventually I have got to do what is important for the team."
International Cricket Council chief executive Haroon Lorgat was quick to pay tribute to Tendulkar. He said: "On behalf of every cricket fan around the globe I congratulate Sachin on becoming the first person to score 100 centuries for his country. This is indeed a magnificent feat and not likely to be easily emulated.
"Fans have admired Sachin for more than 20 years and have recently waited with great expectation for his 100th international century. The number 100 is special for a batsman and to record 100 centuries for your country is a massive statement.
"Like millions of others I have personally followed his career ever since he first played for India as a gifted 16-year-old and now, more than two decades later, his passion and personal records, which include more than 33,000 runs at international level, is a modern day wonder.
"He is a marvel to cricket lovers around the world and with an array of batting records, Sachin is a true role model who will undoubtedly hold a special place in cricket's history."
Tendulkar was described as a "colossus" by N Srinivasan, the president of the Board of Control for Cricket in India (BCCI).
"Ever since he made his international debut in November 1989, Sachin Ramesh Tendulkar has strode cricketing arenas the world over, like a colossus," Srinivasan told bcci.tv.
"He has broken old records and set new benchmarks. He has been an inspiration to billions, and an ornament to the sport. March 16, 2012 will never be forgotten by cricket-lovers.
"On behalf of the BCCI, I would like to congratulate Sachin Tendulkar for completing a century of international centuries."